It was time to take a little R&R during the long weekend and I ended up in Jensen Beach Florida with my sister. The beach we stayed in was actually in Hutchinson Island which is off the east coast of central Florida but the area is called Jensen Beach. The goal was simply to rest. It turned out to be just what I was looking for. We stayed at Vistana Resort that is actually a Time-Share in Jensen Beach. Got a great deal at Orbitz.com for two nights. The weather was not good so we actually never got in the water. Just took walks down the shoreline and took in the sea breeze. It was quiet and peaceful there. It is not a typical beach resort where there are rental umbrellas and jetskies, etc. This place is "uncomplicated". Take your own umbrella if you so wish and swim in the water. Simple.
The whole thing turned out to be a time to rest and eat! Jensen Beach was great! The places we went to had excellent food. I highly recommend them. We had lunch at Smokey's before we actually went to Jensen Beach. It is approximately 25 miles north of Jensen Beach.  So we actually passed Jensen Beach and kept going north, but it was well worth the extra miles. Smokey's has the best "Baby Back Ribs" I have ever eaten! Truly stand by the name. Slow smoked ribs that fall off the bone. They almost taste like ham. The prices are very reasonable. Definitely a repeat.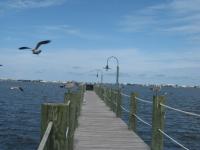 We also visited Dolphin Bar in Jensen Beach. Another great place. It is right on the water in the inter coastal (the back of the bar is partially shown on this picture). I took lots of pictures from a very nice pier they have in the back. The food is fresh and very good. They also have a good bar tender who knows her craft. The whole experience was so nice that we actually returned for lunch the last day we were there before driving home.
We also went to "11 Maple Street". I had read all the great reviews other visitors had given the place. Another friend had also recommended it. They were all right! This place is actually an old fashion home in a side street (Maple Street). The decor is kind of eclectic, almost like the chairs and tables came from different places and times. Like nothing I had seen before but very nice. The food is also like nothing I had tasted before. They have four or five "large plates" which are categorized as such in the menu. Then they have a large selection of appetizer size plates that include a wide variety of choices none of which are the usual things you see in appetizer menus. They have things like frog legs, skate wings, quail, all beautifully plated and accompanied with delicious sauces.  Definitely a very different and interesting experience and should be repeated.  When we go back, the must repeats for us are: Maine spotted skatewing, Herb beurrre blanc and the wild king salmon wood grilled (rare). If you like wine, they also have a wine pairing with each small plate. A special place.
Tags: FL, good food, ocean front