We recently wanted to try something new and decided to take a walk on the Mile in Coral Gables, FL and check out a restaurant we had not tried yet.
We walked in to Seasons 52! I loved it the minute I walked in.  The atmosphere is great (which is typical in Coral Gables dinning scene).  There is always a long wait if you don't have reservations so we opted to try our luck at the bar where its first come first serve.  The hosted indicated the option and off we went.  We thought we were going to find a regular bar with stools, etc.  Instead we found an oval shaped bar with stools all around and big enough of 3-4 bar tenders plus a piano and piano player inside it.
I am usually not thrilled with live entertainment after a long day at the office since it tends to be loud and too lively.  But here it is done in style.  The music is usually smooth jazz and the tones are not intrusive.  You don't have to scream to talk to the person you came with.  It was nice and mellow and I loved it.
Then came the food.  This is a fresh grill seasonal style American cuisine.  The portions are moderate and very well balanced.  The food is very fresh and tasty.  I had a wonderful Apple Martini.  The appetizers and wonderful, my very favorite are the flat breads.  These are like long and very thin breads that are dressed with mushrooms, onions, cheeses and grilled like pizza would be.  There is a variety of 4-6.  They are all fabulous.  For dinner,  roasted  scallops with pearl past.  Finally, totally delicious and guilt free desert.  The mini desert menu includes items like cream cheese cake, peach cobbler, etc.
Within a month I had found an excuse to go back to Coral Gables and visit Seasons 52.  A dear friend of mine had a birthday and I took her to dinner there to celebrate.
A definite repeat and can not forget to order the flat bread!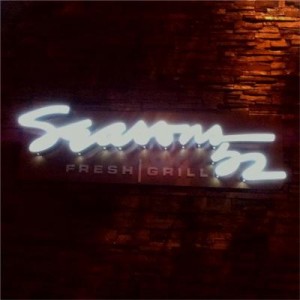 Tags: Coral Gables, FL